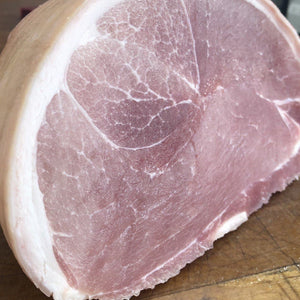 A traditional locally sourced Gammon Joint, that is well cured. This joint makes a great centerpiece on the Christmas table and is easy to carve.
Cooking Instructions
Firstly you need to weigh your raw gammon joint, but this time, allow 30 minutes per 450g (1lb), plus an additional 30 minutes, and cook it at 180°C (350°F or Gas Mark 4).
Place the gammon joint in a large roasting tin, cover with foil and cook for the time you previously worked out, and about 20-30 minutes from the end, take the foil off.
If you want to add a glaze, you can do this at about 20 minutes or so before the end to avoid it catching and burning. You can use any number of ingredients, including classic flavours such as honey and maple syrup, or even try something a little different, like marmalade, an orange and soy sauce glaze or any other of your favourite flavours.